Features Kaleidoscope24.com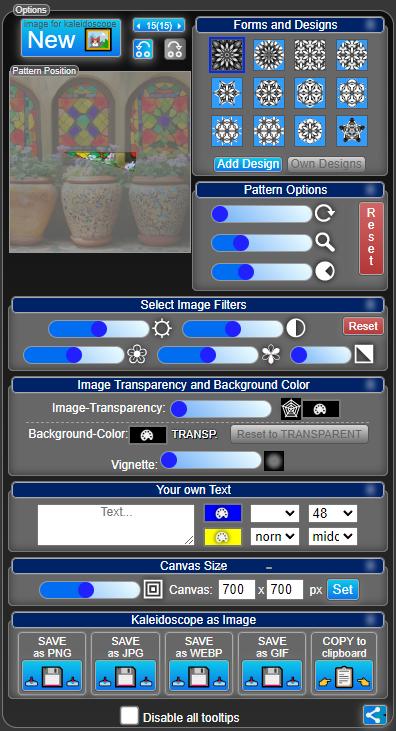 Discover the Beauty of Kaleidoscope-Images with Kaleidoscope24
Welcome to Kaleidoscope24, the web program that allows you to create and share beautiful kaleidoscope images. In this blog post, I will explain how to use the different features of Kaleidoscope24. You can choose from a variety of shapes, colors, patterns and effects to create your own unique kaleidoscope. You can also save, download and share your creations with others. Kaleidoscope24 is easy to use and fun to explore. Let's get started!
Inserting Photos or Images:
You can insert your own photos or images in various ways. You can either enter a URL for an image, select an image from your device, upload a file through drag-and-drop, or paste an image from your clipboard. Pictures can also be inserted using "Open with..." from the File Explorer in Windows 10 and 11, or through "Share" from the "Files" or Gallery on a smartphone (Launch Handler API and Web Share Target API for PWA). You can use any image file in JPG, PNG, WEBP or GIF format.
History (Undo, Redo, Reset):
The entire history is saved and can be navigated using undo and redo at any time. History is fully available thanks to storage in IndexDB even after a restart or crash.
Kaleidoscope24 different Shapes and Forms:
Kaleidoscope24 offers you a range of different kaleidoscope shapes that you can change with a click on the buttons under "Kaleidoscope FORM" You can choose between a rectangle, a circle, or a selection of nine other shapes such as a hexagon, a six-pointed star, a kisrhombille and more. Creating a classic kaleidoscope or mandala is not a problem here.
Saving and Editing Designs:
With this app, you can create beautiful and unique kaleidoscopes from your own photos. You can choose from different shapes and patterns to customize your kaleidoscope segments. You can also change the size, number, and orientation of the segments to create different effects. You can save your kaleidoscope designs as templates and edit them later.
Special Image Filters:
You can create amazing kaleidoscopes with this app by using different filters and settings. You can adjust the brightness, contrast, color saturation and hue of the image to make it more vivid or subtle. You can also apply negative filter to invert the colors and create a striking effect. These features allow you to customize your kaleidoscope and make it stand out from the rest.
Image Transparency and Background Color:
You can customize your kaleidoscopes with image transparency and background color options. These features allow you to create unique and stunning patterns that blend with your chosen background. You can select any color from the device's screen or from another application using the color picker eyedropper tool. The EyeDropper API enables you to sample colors from any pixel on the screen and apply them to your kaleidoscope. This way, you can match your kaleidoscope with your wallpaper, your favorite photo, or any other image you like.
Your own Text:
With custom text, any image can be transformed into a greeting cards, invitations or memes. You can customize the appearance of your text with various options. You can choose from different colors to fill the text or outline it with a stroke (with the color picker or eyedropper / EyeDropper API). You can also select any font that is installed on your device (Local Fonts Access API), and adjust the font size to suit your needs. Additionally, you can apply bold or italic formatting to emphasize your text. Finally, you can position your text in three different ways: top-aligned, centered, or bottom-aligned.
Canvas and Image Dimensions:
One of the features of this image editing tool is the ability to resize images according to your needs. You can use the sliders to change the image dimensions from 50x50 px to 1500x1500 px square, or you can enter the values manually to create a portrait or landscape format. This feature gives you more flexibility and control over how your images look on different platforms and devices.
Downloading and Sharing:
You can create amazing kaleidoscopes with this app and save them in different formats. Whether you want a static image or a dynamic animation (gif), you can choose from PNG, JPG, WEBP or GIF options. You can also copy your kaleidoscope to the clipboard and paste it anywhere you like. Or you can share your creation with your friends and family through social media or email. This app lets you enjoy the beauty of kaleidoscopes and express your creativity in many ways.